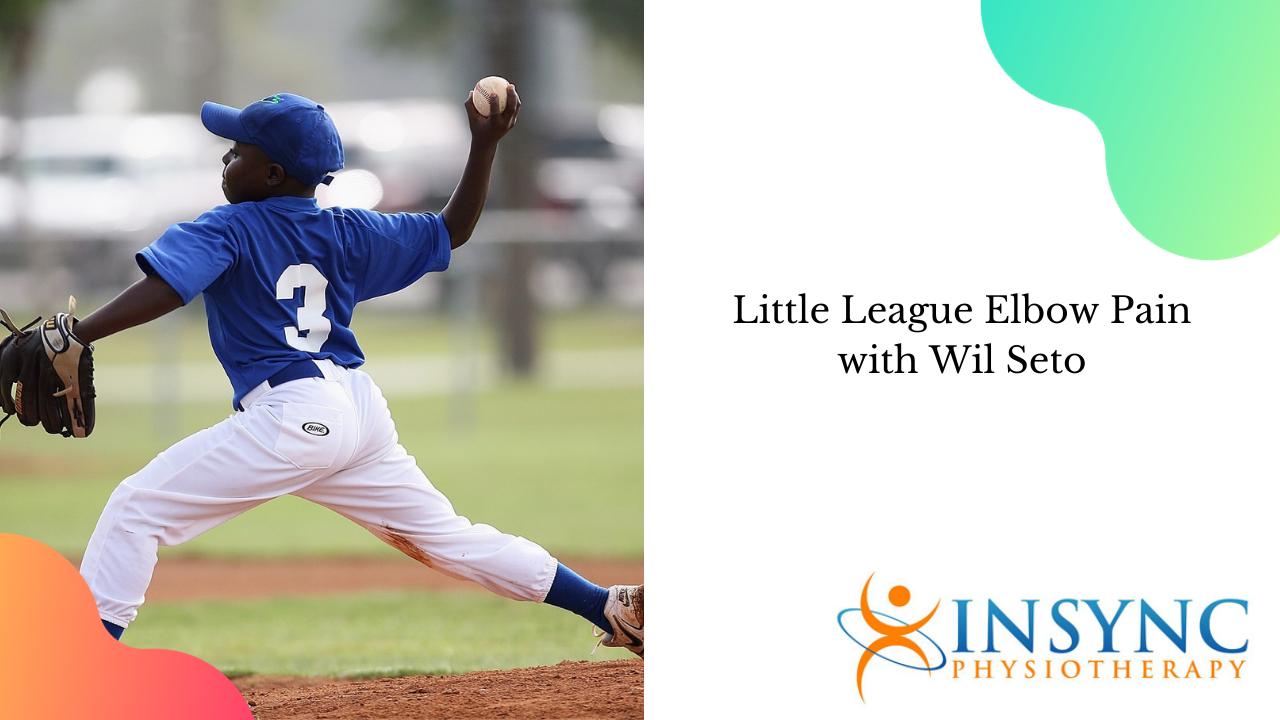 Mark: Hi, it's Mark Bossert. I'm here with Wil Seto of Insync Physio in Vancouver, one of Vancouver's top physiotherapy clinics. And we're talking about elbow pain in little leaguers. How are you doing, Wil?

Wil: I'm doing good, thanks. How about you?

Mark: I'm all right. So little leaguers, elbow pain, how common is this?

Wil: Well, it's very common in a specific sort of like demograph. And so you usually see this in kids under the age of 10. And in particular kids that are really active in, you know, sports that involve like overhead throwing. And so, you know, the typical sport they usually think of is like baseball, right?

So that's why they call it little league elbow. But it's not restricted to just baseball. It could be like, maybe be a little person, they're taking up tennis or something like that, and they're doing more you know, dedicated playing and training or whatnot at that age. But it's the overuse aspect of this injury that's been more prevalent.

Mark: So why does this happen?

Wil: Well, this happens because you have an overload. And so you think about the young and developing tendons and ligaments and also the bony structure where basically the ligaments and the tendons attach to are right on the growth plate. So growth plate is sort of that area of your bone where it's not fully fused yet. And so the reason why it's not fully fused is because it's a little person, you know, it allows more room that way you can keep growing.

So as an adult, you and I, our bones are fully fused and we no longer have growth plates. So the growth plates, I think full physical maturing of our growth, I think it happens somewhere between like 16, 18 or maybe a little bit older. But in the little kids, this is even more of a problem because it's so immature.

And so because of this delayed growth in the little people. Then when you look at sort of the elbow pain, the inside, we call it the little leaguers elbow, it's sort of like it can mimic sort of this aspect of a golfer's elbow. The type of the injury of severity, really depends on what stage, so like the seven year old would present maybe a bit different than say someone that comes in who's 12 or something.

And there's a lot of evidence to show that this is quite prevalent when you look at kids engaging in these type of repetitive activities and really overloading their arms and really starting to present with this type of issue.

Mark: So how do you go about diagnosing what exactly is going on?

Wil: Well one of the important things is that when we assess it as a physio group at our clinics, you know, we take them through a bunch of things. We want to make sure that there's not a fracture and ultimately you can't really know until you get scans done. And so if we suspect it, then we would definitely refer to podiatrist, which is basically a child doctor where they specialize in looking at child development and stuff like that. And so you want to confirm that there isn't like an emulsion fracture or anything like that. That's really important.

And then the other thing is that we want to make sure that there isn't any other things going on with respect to like, you know, ligament instabilities, because like I said, the ligaments can be injured or overstretched. And so that's super important because that can affect as, you know, they become a teenager and become an adult, if it's a lifelong sport that they're going to enjoy or even like maybe not that sport specifically, but let's say they want to do another sport or just general functioning, it can affect that in the long term.

And then maybe the elbow won't be an issue, but then it can affect other aspects because you get all all the compensation patterns happening at that young age that can carry forward right through adolescence and into adulthood. And so you really want to make sure of those big things. And then as you look at the overuse things and look at, okay, so what's happening here in terms of the overload?

So is it one specific area or a couple of specific areas and you want to definitely let them rest. You got to let them rest and not have any of that pain onset coming on when they're doing any of the activities. I think that's huge. Because if you do and you bring 'em back too soon, then that can be disastrous.

Then you can get you know, all these things in the disturbance of how the growth plates actually start to develop and bone starts to develop. And then an emulsion fracture. Long-term instability. And then the integrity of the actual tendons and the muscles themselves. So those are all really important things to consider.

And then you're not even considering the other aspects of that that can be affected like the nerves because you have nerves that run through the elbow, you know, on the inside and the outside. They can cause irritation and that can have long term implications. So it's quite a complex thing if it's not dealt with properly, you know, these issues that can potentially pop up. Yeah, so those are huge.

Mark: So what does the course of treatment look like?

Wil: Yeah, so definitely like if it's on more of the severe end, we want a medical management and rest, like I said. And so the medical management would be looking at, okay, so, honestly very like low percentage, like this is going into the more extreme side of things, like maybe they need surgery. Which is very uncommon. But you know, usually we don't see kids being pushed that far.

I mean, rest, like I said, is number one. And then maybe medications to help with the inflammation and swelling. You know, really, the best thing in terms of a conservative physiotherapy approach is looking at what needs to be balanced out here. Okay. So they need to have a stronger core as well. Usually you can identify weaknesses in their core, and you're probably wondering, well, what does that have to do with like the overuse in the elbow?

Well, you know, if they're really not leaning in and using the core when they're throwing, or they're just all arm heavy, then that's also an overload just on that one system. And they're not using their core to really be a strong base. And so they're going to not utilize everything from that aspect. And so then that's how they overuse can happen a lot more. So there's specific exercises that you can do.

There's things that we can do to help in terms of getting things moving away safely. Mobilizing things in a way safely. So we want to address not just the elbow, the wrists and the shoulder and the neck and everything. And that progressive strengthening is important, but we don't want to push it. So we only want to start getting back to those things and that helps promote like the circulation into that area again and does help with healing, but it has to be the proper amount. It has to be the right amount.

And then obviously getting them back into the functional things. So those are key because if we can really also look at the function and all that stuff, you know, and the aspect of like, how do they throw, like maybe the mechanics are off.

When we look at for little leaguers and pitchers, they instituted this I think about a decade ago, called the pitch count for age. So, if you're like this old, you're not allowed to pitch more than this. And it's very specific. And I think the biggest thing is educating the parents and also even the kids. You know, identifying what the symptoms are and then how to like set the treatment on your own. Because that's super important. And I think we need to pay more attention to this.

Mark: If your child is having some problems with pain in their elbow, the people to see in Vancouver are Insync Physio. You can book online at insyncphysio.Com Or you can call the Vancouver office at (604) 566-5716. They have an office in North Burnaby as well. Call them at (604) 298-4878. You can book either place online at the website. Thanks so much for watching. We appreciate it. Thanks Wil.
Wil: Thank you, Mark.