Post-Race Recovery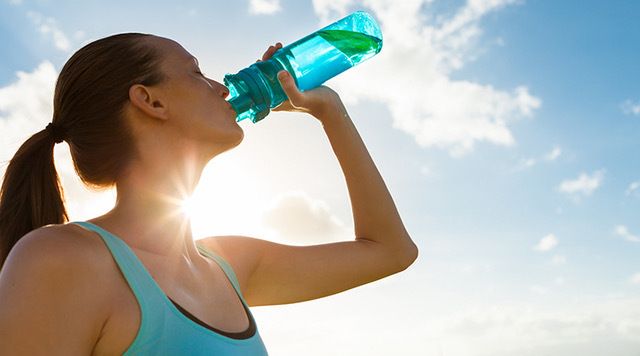 A proper warm-up prior to a run is important to increase the heart rate, blood circulation to the working muscles, and joint efficiency. However, cooling down is an essential component of the training process and should be completed at the end of every exercise session. It is important to cool-down after a run to transition the body back to a steady, resting state by decreasing the heart rate, breathing rate, and body temperature. Cooling down also returns the muscles to their optimal length-tension relationships and returns blood from the extremities back to the heart. Skipping a cool-down or performing it incorrectly can cause your muscles to become sorer and stiffer which may lead to unwanted injuries.
The following is a guide for optimal post-race recovery:
1. Slow jog or walk
Immediately at the end of a run, it is ideal to slow your pace down to a jog or a brisk walk to gradually lower your heart rate. Ending your run abruptly may cause blood to pool in your legs instead of returning it to the heart and brain. This can lead to a risk of fainting or feelings of lightheadedness. Jog or walk for approximately 5 to 10 minutes.
2. Hydration
Exercising will cause more sweating and loss of fluid in the body which may lead to dehydration. Restore fluid levels in your body by rehydrating with water. It is important to stay hydrated to help manage your body temperature, remove waste from your body, and protect your tissues and joints.
3. Total Body Stretching
a. Pigeon Pose:
Begin in 4 point position on a yoga mat. To stretch the right posterior hip, including the Piriformis muscle, straighten out the left knee pushing the left foot back. Then bring the right knee forward towards your chest while supporting yourself with your hands in front. Making sure that your left and right pelvises are level with each other, bring your right foot across turning it to the left side. Then reach forward on the mat with your hands bringing your elbows towards the mat while keeping both sides of the pelvis level and down. Hold for 30 seconds and do 3 sets on each side 2 times daily.
b. Hip Flexor Stretch:
Kneel down onto your left knee. Then rotate it about 45 degrees past the midline of your body. To keep your posture nice and tall imagine there's a string pulling your whole spine upwards from your pelvis, right up your entire back and neck and up to the top of your head. Then engage your inner core muscles tight below your belly button and keep your low back flat. Next, bend the right knee forward and keep your posture nice and tall without leaning backwards. Then reach your left arm up pointing the fingers towards the ceiling nice and high and point your right finger tips to the floor. Hold this stretch for 30 seconds and repeat 3 times for each side.
c. IT Band / Lateral Quad Stretch:
Start by lying on your good side with the tight Iliotibial Band or "IT-Band" facing up. Keep your inner core muscles below the belly button engaged while keeping your low back flat. Then, bring the bottom knee towards your chest and with your left hand, reach down and back for your other leg above the ankle. Pull the heel back towards the bum while keeping the core engaged and the low back flat. Keeping the top knee and ankle parallel and level with the floor, lift your bottom heel onto the top part of your knee. Next, guide your lower leg down toward the floor with your heel while keeping the top leg, knee and ankle parallel and level to the floor. As the top leg is lowered down, have the top knee and thigh pointed downwards so it's in alignment with your whole spine. Hold this stretch for 30 seconds and repeat 3 sets 2 times daily.
d. Lat Stretch:
To stretch the right lat, place the back of your right hand to your left side in front of you while clasping it with your left hand. Reach forward to your left and keep your elbows straight. Keep your knees wide apart and the back of your feet flat on the mat. Reach forward and lean to the right arm pit. Hold for 30 seconds, do 3 sets. Repeat on the opposite side if it's also tight!
e. Shoulder Stretch:
To stretch out the right side, reach your right hand up and down your back keeping your right elbow pointed upwards. Avoid arching the back by keeping your spine in neutral. Pull the right elbow towards midline with your left hand while keeping the right elbow pointed upwards. Hold this for 30 seconds doing 3 sets on each side daily.
f. Rolling out the Hamstrings:
Put the roller on the ground and bring your hamstring onto it. Roll up and down onto your Hamstring muscle while supporting yourself with both hands. Find the sweet spots (or the areas that hurt in a good way) and continue to roll over these areas for 3-4 minutes in total. Do this 2-3 times a day just before you stretch out the hamstring.
g. Rolling out the Calf Muscles:
4. Additional Measures
Take a 5-10 minute cold water bath to reduce swelling. Allow 1-2 days post-run to allow the body to recover before massaging any tight muscles.